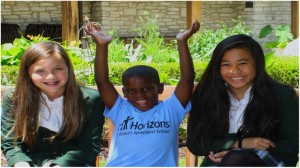 Horizons at SRES began in 1996 with a group of people committed to reversing summer learning loss. Our students are improving, thriving, swimming, and having a blast. Word has spread and parents are eager to get their children into our program. Better still, the children beg their parents to get them in. In the summer of 2015, we had a wait list of 50 children—all qualified students who would have loved to experience the benefits of a Horizons summer.
Our Partners
Horizons at SRES does not function in isolation. At the heart of our program are our partnerships with Trinity Episcopal Church, Butler University, and our Primary Partner Schools: Indianapolis Public Schools #60, #48, #42, #43 and the Oaks Academy.  Our partnerships allow us to share resources, hold important dialogues, and develop innovative programming for a population of students often neglected in the summer months.
Horizons National
Horizons National was formed in 1995 to replicate the original Horizons program, which began over 50 years ago to serve low-income students in Norwalk and Stamford, CT. Today the network spans from coast to coast, with 40 programs in 15 states and growing. In the next 3 years, Horizons seeks to more than double the number of students served, with the goal to have the capacity to serve 10,000 students.
Horizons National is based in Connecticut and supports its affiliates with training for staff and board, funding opportunities, and additional services. You can learn more about Horizons National at www.horizonsnational.org.