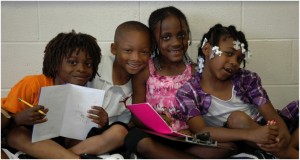 The mission of Horizons at St. Richard's Episcopal School is to close the summer learning gap for Indianapolis kids from low-income families through:
 intensive academic enrichment from preK to 8th grade;
 fun learning environment;
 lifesaving swim lessons; and
 year-round support for families.
Horizons at SRES recognizes that everyone needs specific, measurable goals. Here are ours for each summer session:
Students will achieve an average gain of two to three months in math and reading.
All students will participate in the swimming program and improve at least two skills from their Red Cross Swim Level.
We will achieve a minimum of 90 percent student attendance.
80 percent of students will self-report that they are more aware of how to eat a nutritious diet.