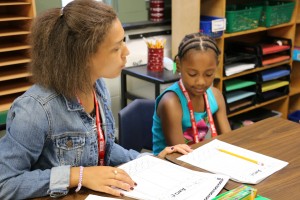 Every day during our summer program, Horizons teachers and administrators see the positive impact our program has on the children who attend. But don't take our word for it—take a look at the numbers that show how we're meeting the needs of this under- served group:
"The most important thing I learned at Horizons was to empower others."—Horizons second grader
The Need: Reverse Summer Learning Loss
Summer learning loss is the single greatest cause of the achievement gap between lower- and higher-income children. The average learning gap in kindergarten is 6 months and continues to grow each year. Losing an average of 2-3 months in reading ability each summer, low-income students quickly fall significantly behind their classmates each year. By the 5th grade, low-income students fall nearly three years behind their more affluent peers.
Here are some of the worst effects of summer learning loss in Indiana:
80 percent of 4th graders receiving free or reduced lunch do not read at grade level.
Only 45 percent of IPS students pass the math and language arts portions of ISTEP.
Only 58 percent of IPS students graduate on time.
More than 30 percent of IPS students will drop out before high-school graduation.
The achievement gap has a devastating impact on our education system and economy:
Students who do not read proficiently by the third grade are four times more likely to drop out of high school and have a 51 percent chance of being unemployed.
Students who drop out of high school cost the nation $260 billion per year in increased crime, welfare and healthcare costs, and decreased lifetime earnings.
The Horizons Impact on Summer Learning Loss
The 5 week Horizons summer program makes a 5-6 month positive difference for students every summer. Instead of a 2-3 month loss, Horizons students show 2-3 month average gains in reading and math skills, and larger gains for students flagged below grade level.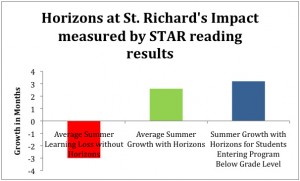 The Need: Water Safety
Nine people drown in the U.S. everyday.
Drowning is the second leading cause of accidental death among children.
African American children ages five through fourteen have a drowning rate three times higher than white children.
69 percent of African Americans do not know how to swim.
Swim lessons can cost an average of $1 per minute, making them unaffordable for low-income families.
Children in urban communities are more likely to drown.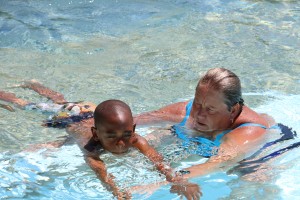 The Horizons Impact on Water Safety
Thanks to a partnership with the Jewish Community Center, students receive swim lessons from licensed swim instructors 3 times a week.
98% of students say they feel more confident swimming
Through swimming students not only learn a lifesaving skill, they increase self-confidence by trying something new. They also learn to trust others and practice teamwork.
She has gained confidence in herself. With Horizons offering the swim program, my daughter has learned to swim and stop second guessing herself. – Horizons Parent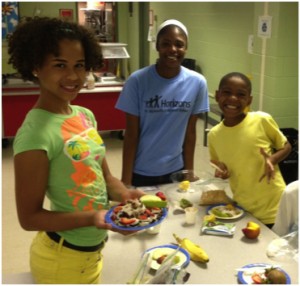 The Need: Obesity Prevention
Childhood obesity affects approximately one out of every six children and adolescents in the U.S.
Children gain weight three times faster during the summer months.
54 percent of Indiana children do not exercise regularly.
22.7 percent of Indiana children experience food insecurity .
Increased education decreases the likelihood of obesity.
Children of parents without a high school diploma are twice as likely to be obese as those whose parents have a college degree.
Parents with lower education levels feed their children more foods rich and sugar than parents with higher education.
The neighborhood surrounding SRES has been classified by the Marion County Public Health Department as a food desert.
Low income children have less opportunity for safe, active play, organized sports, and access to fresh food.
The Horizons Impact on Obesity Prevention
Students at Horizons learn about living a healthy lifestyle and the importance of eating nutritious foods every day.
Students receive breakfast and lunch daily through the Summer Food Service Program.
Generous supporters allow for students to eat a healthy snack, fresh fruit or vegetable every day.
During enrichment, students stay active playing sports like basketball, soccer, kickball and football.
Students play interactive games about nutrition, the human body, and healthy eating.
Students swim three times a week- defined by the CDC as a rigorous exercise
84 percent of students say they learned how to eat healthier at Horizons
89 percent of students say they learned how to be more physically active at Horizons
"I like snack because we get to have strawberries!" – Horizons 3rd grader