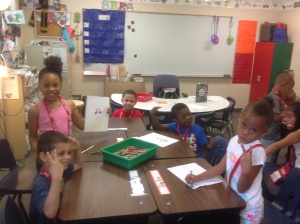 Horizons at St. Richard's succeeds at preventing summer learning loss by maintaining high quality instructional time, combined with swim lessons, enrichment activities and field trips.
Qualified students: Horizons accepts students of all abilities from the Mid-North, Indianapolis neighborhoods, focusing on the Mapleton-Fall Creek area. All incoming students must qualify for free or reduced lunch, with preference given to returning students.
Daily Schedule
8:30-9:00 Breakfast/ morning reader
Classroom instruction 9:00-11:30
Lunch/ Recess 11:30-12:30
Swimming (MWF), Enrichment/Field Trips (TR), or STEM activities- 12:30-3:00
3:00 Dismissal
Family Participation
Horizons recognizes the importance of family involvement to our students' success. Therefore, we have family events throughout the summer including a family swim night, family day at school, and closing ceremonies. We publish a bi-weekly newsletter during program to keep parents up to date on daily activities and news.
Teachers also complete a two-page progress report for each student in their classroom, which is mailed home and given to the student's school. We also keep in contact with families throughout the school year with family events each school break. As we continue to grow, there will be more opportunities for parent volunteers and family workshops.
Academics
Each morning, students work in small classes of 15 on reading, writing, and STEM. Teachers help students develop essential skills with dynamic teaching and hands-on projects.
Horizons maintains a student to staff ratio of 4:1 while working in the well-resourced classrooms of St. Richard's Episcopal School.
Licensed teachers and talented assistant teachers lead classrooms of 10-17 students each morning.
A reading specialist works with students individually and in small groups.
Dedicated volunteer interns assist teachers and serve as student mentors
I like doing reading strategies because you learn how to read so when you go back to school or go home you can read all you want. 
-Horizons 2nd grader Swimming
Horizons students receive swim lessons from licensed swim instructors at the Jewish Community Center 3 times a week. Swim lessons are not only a favorite activity amongst students, they teach the children a life-saving skill while instilling a positive attitude towards learning new things, trusting others, and believing in oneself.
"I tell my friends that Horizons is the best because we get to go swimming."
–Horizons 3rd grader
Enrichment In the afternoons
Horizons students also participate in enrichment activities that provide experiential learning.
Enrichment activities have included: team building, gardening, French, Spanish, nutrition, watching "Chopped," dental hygiene, sports, art, music, African drumming, theater, poetry, dance and painting. Field trips also broaden student's perspective and provide fun learning opportunities.
Field trips have included the Infozone, USA Swimming National Championships, Holliday Park, National Institute of Fitness and Sport, the Children's Museum, and Camp Belzer
"My favorite thing about Horizons is going on field trips because you get to go places you never got to go to before."
– Horizons 2nd grader
[wpdm_category id=student-application-forms]