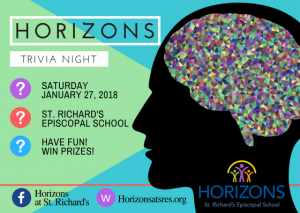 Horizons' Annual Trivia Night 2017
Trivia Night 2017 was a huge success in raising awareness and funds to support the mission of Horizons.  Thirty teams with a total of 180 people competed in a fun night of knowledge-testing trivia about important components of the Horizons program, including swimming, math, health and nutrition, language arts, and more!
We raised over $17,000 that will directly benefit Horizons students in the following ways:
$17,000 allows all 160 Horizons students to take swim lessons at the Jewish Community Center (JCC) three times per week and also to participate in additional physical fitness activities.
$17,000 pays the salaries of four Lead Teachers who work directly with 65 students to improve their reading and math skills by 2-3 months.
$17,000 provides a healthy breakfast, lunch and snack for all 160 students daily during the 5-week summer program.
$17,000 pays the salary of the Butler Site Coordinator, the Reading Specialist, and all transportation costs for the summer.
Save the date for Horizons Trivia Night 2018 on Saturday, January 27, 2018.
A big thanks to our sponsors:
And another big thanks to our prize sponsors for the event: