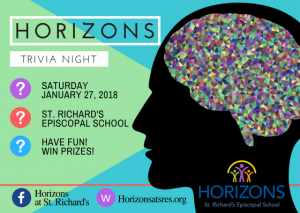 Horizons' Annual Trivia Night 2018
Get ready, Braniacs! Horizons is hosting our annual Trivia Night at St. Richard's Episcopal School on Saturday, January 27 from 7 – 11 p.m. Doors open at 6 p.m. We will have truly formidable trivia questions, brain-food and drinks, and some fantastic prizes up for grabs if your team is top-notch.
A big thanks to our sponsors for helping to make Trivia Night a success!