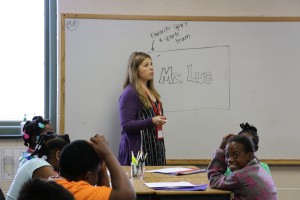 Thank you to the passionate Horizons teachers, staff and volunteers who are so dedicated to creating a positive and fun, learning environment for our students!
If you have an interest/ talent for working with children, sign up today to work with Horizons!
Enrichment Instructor: If you have a special talent, hobby or interest that you would like to share with the Horizons students, sign up as an enrichment instructor! Students participate in enrichment activities every Tuesday and Thursday afternoon. These activities supplement their classroom work to introduce students to new ideas, topics, cultures, and activities. Previous activities have included sports, MyPlate, "Chopped," African drumming, team building, Rube Goldberg, French, Spanish, cooking, science experiments, and crafts. Activities should be hands-on and last about 45-50 minutes. If you are unsure of an activity to lead, please contact us and we can assist you in creating a lesson.
Teacher: Thank you to the wonderful Horizons at SRES teachers that dedicate their summers to their Horizons students! If you are interested in teaching at Horizons this summer, please contact us at smartin@sresdragons.org. Lead teachers must be licensed.