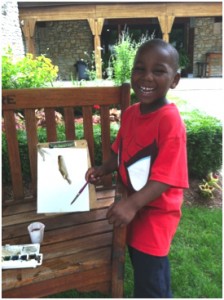 You can change a child's future today!
All children deserve the opportunity to achieve their highest potential. A gift to Horizons at St. Richard's helps ensure that opportunity here in Indianapolis.
Horizons is 100% self-funded, operating at St. Richard's Episcopal School. Horizons receives in-kind contributions from St. Richard's School, including use of facilities, equipment, bookkeeping and accounting services, but Horizons is financially independent from the School. Horizons depends on gifts from individuals, corporations, foundations and community organizations. Horizons is included in St. Richard's 501(c)(3) not-for-profit tax status. All contributions are tax deductible to the full extent allowed by law.
Your gift can have a real impact on a child:
$3,850 – Pays for a teacher for five weeks
$2,300  – Sponsors one child at Horizons for a year
$1,200  – Pays for morning snacks for all students for one summer
$650  – The cost of swim lessons for every child for one week
$200  – Equals fresh produce snack for every child for one week
$100  – Equals the Horizons opportunity for a day to one student
$40  – Equals a week of meals in the Butler Dining Hall for one middle school student
Please also consider other gifts. We need:
Skilled and passionate individuals to assist with enrichment classes (one hour each)- please refer to "Talent" page
Classroom supplies: writing utensils, notebooks, folders, etc.
Supplies for enrichment classes: art, music, sports equipment, crafts, etc.
Items for Special Events/Fundraisers (gift certificates, airline tickets, travel packages)
All donations are highly valued and each gift makes a difference. Donations of any amount are welcome.
Mail your tax-deductible contribution check to:
Horizons at SRES
33 East 33rd Street
Indianapolis, IN 46205